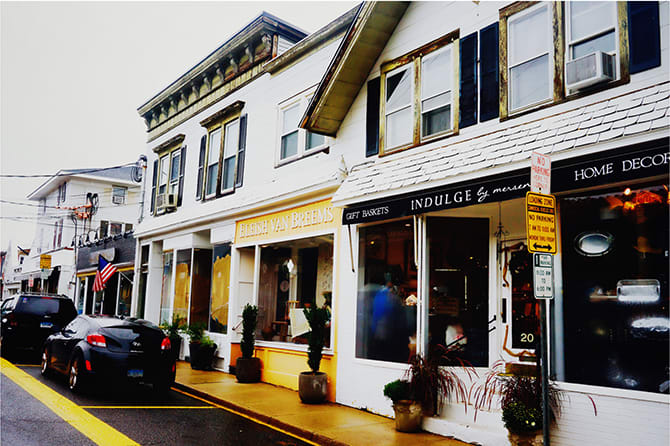 Most people go to the train station to hop a train to a destination – but Westport's Saugatuck station has become a destination unto itself! A historic street that used to house just the essentials for commuter life, has recently become home to some of the town's chicest shops. Each of the boutiques on the block feels like a little undiscovered gem, featuring unique and curated items for the most sophisticated shopper. And if you can't imagine going to the station unless you are traveling, just grab a cappuccino from Winfield Street Espresso Bar (also on the street) and sip it slowly as you meander through these magical shops. You'll feel like you've been whisked away to Europe…without even boarding a train!
The Flat
The Flat, which just opened this month, contains a mix of mid-century modern furniture, lighting, and art, along with contemporary jewelry, clothing, and accessories. Owner Becky Gross opened The Flat after several years sourcing and selling vintage at local antique centers. The shop is styled as a sophisticated woman's studio apartment or "flat", and she hopes that you will feel like you are "being welcomed into a friend's well-appointed home".
---
Indulge By Mersene
Indulge by Mersene is a boutique like no other. Inside this whimsical shop, you will find a unique assortment of gifts including local artisans, gourmet foods, decorative pillows, jewelry, home decor, and a range of other items. Items may be purchased individually, or included in their elaborate and often themed gift baskets. We think their wrapping is a reason itself to shop there – "It's a present just in the presentation."
---
Suited
Suited, owned by Ryan Meserole is for the man who likes his clothes custom fit. This shop specializes in custom suits, shirts, overcoats and more all made with only high-end fabrics. The owner told us that all clothes come in one size – "Yours"!
---
Saugatuck Grain and Grape
Saugatuck Grain and Grape is a wonderful shop that focuses on fine wines, craft spirits, and craft beers. Their staff is knowledgeable and helpful if you need recommendations. They also offer wine tastings on Fridays and can be hired to help with events and private parties. It's also a great place to grab a beer before hopping on the train!
---
Sports Attic CT
Sports Attic CT, which just opened in August, sells new and quality pre-owned sporting goods. Anyone who has kids involved in sports knows that sporting equipment can become very expensive. Sports Attic CT believes they can offer a better-priced alternative by offering quality, new or lightly used equipment. They also offer customers the option of selling back gear that they are no longer using for cash back on the spot. Sounds pretty good!
---
Eleish Van Breems
​​​​​​​Eleish Van Breems is a one-stop resource for fine antiques, reproduction furniture, and interior design services, owned by Rhonda Eleish and Edie van Breems – both longtime Westporters and childhood friends. Offering "the best Nordic design of the past, present, and future", the space houses a showroom, a design studio and a library of reference books and resources on Swedish design.
---
Follow us on and sign up for our monthly email newsletters, , for helpful real estate tips, market updates, new listings…and of course an insider's view of life in and around Westport and Weston.